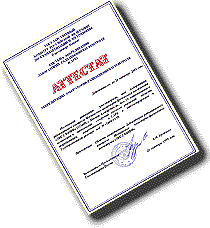 "LRK-1 MEPhI" has the entitlement to:
perform radiation measurements for manufactured goods certification in accordance with the accreditation field;
perform radiation measurements in the accreditation limits and issue standard documents (Certificates and Acts) according to the results;
establish measurements special price.
LRK-1 MEPhI LABORATORY
Laboratory of Environmental Radioactivity «LRK-1 MEPhI» of National Research Nuclear University «MEPhI» is legally registered as MEPhI subdivision in 1993 in the conversion context of R&D projects that has been in progress since the early 60-s at Departments ¹1 and ¹39.
The Laboratory of Environmental Radioactivity «LRK-1 MEPhI» (pronounced as [elerka-od'in mefi]) is certified by the Radiation Control Laboratories Accreditation System (RCLAS), that acts within the limits of Standard Provision System (SPS). SPS is the part of the Russian Federation State Comity on Metrology and Standardization (GOSSTANDTART RF), so SPS is the only service authorized to officially acknowledge laboratory's competence in the radiation measurements.
On the basis of our Laboratory students training in the applied spectrometry is carried out.The laboratory keeps in touch with research and government organizations executed analogous work in France, Norway, Italy, Canada and USA. Joint projects are executed through International Scientific and Technical Center (ISTC).





Address:
Kashirskoe shosse, 31,
Moscow,
115409,
Russian Federation
Phone:
+7 (495) 788-56-99 ext. 8463,
+7 (903) 581-85-33,
+7 (903) 210-23-59
Fax:
+7 (499) 323-95-92
E-mail:
info@radiation.ru,
egorov@lec.mephi.ru
Municipal transport:
From «Kashirskaya» metro station to «MEPhI» bus stop.
Buses:
148, 263, 275, 280, 291, 298, 299, 415, 608, 709, 738, 742, 907

Trolley buses:
67, 71.

Local phone:
8463.